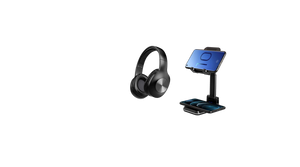 Let customers speak for us
Best Phone Accessories for Android and iPhone
Smartphones have become inevitably an essential part of our daily lives. Our cell phone offers us multiple activities at only one device, which makes our lives easier! Thus, to protect them and to enhance the quality of use of our smartphone, we need mobile phone accessories such as screen protectors, cases & covers, chargers, adapters, cables, memory cards, headsets and more, for your iPhone or Android devices. Because, a portable power bank helps you to keep your device juiced up all the time, a screen protector can prevent scratching and cracking of your screen, or just a protective case can save your phone from an unexpected damage. Uzid is the right address to buy mobile phone accessories online.
Shop Cell Phone Accessories from Uzid
Now you can find what best for your device from our wide selection of cell phone accessories store at Uzid. With the over 25.000 product range, money-saving offers and shipping deals, it is a rising online smartphone accessory address in USA. We guarantee that you will find everything you want and need in our warehouse because we have a wide range of products in stock for any type of phone gadgets suitable for Apple, LG, Samsung, HTC, etc. Explore now the latest trends and the most popular phone accessories on every budget. Experience safe, fast and profitable online shopping with Uzid.
Mobile Phone Accessories for Give as Gifts
Are you having a hard time coming up with a creative gift for birthdays or holidays? Good news, now it is trending cell phone accessory gifts for your loved ones! Take a look our unique, exclusive and high-quality collection of cell phone gadgets for every taste and budget, compatible with iPhone, iPad, Android phones and Tablets.